The Stanford Cardinal end the USC Trojans reign; and why the Pac-10 is the best conference in college football
USC'S REIGN AT THE TOP IS OVER – FOR NOW
Ding Dong' the merry-oh, sing it high, sing it low.
Let them know
The Wicked Witch is dead!
For some reason, this song was running through my head as I watched Stanford pummel USC.
For Trojans fans, it has been a fantastic ride for the last seven years. So fantastic, in fact, that Trojan fans are completely guilty of taking it for granted. Every single one of them (myself, included).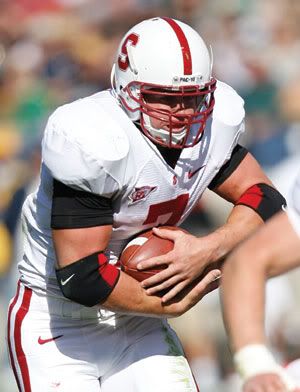 Virtually every hiccup along the way has cost USC a trip to the National Championship, which in turn turned the Rose Bowl into a consolation prize of sorts. USC fans are always disappointed to "only" win the Pac-10 and "only" go to the Rose Bowl.
And that's one of the reasons why fans around the conference have hated the USC Trojans and their fans for the better part of a decade now, and as Stanford drove the final nail into the coffin that Washington had opened and Oregon had closed, there is plenty of reason for the rest of the conference to celebrate.
A friend of mine asked me, "Dave, you know your Pac-10; Is USC done for? I mean, I know they are this season, but are they done for good?"
I'm surprised at how many people are living in the moment so badly that they are actually asking this question. NO, USC isn't done for good. They still have one of the best coaches in the country and a never-ending stable of 4 and 5-star talent. They will be a serious contender for the Pac-10 title next year, as well as the years to come.
The beauty, though, is that they won't be the only serious contender. 2009 will not mark the beginning of the end of USC as a football power; but it will mark the end of their stranglehold over the rest of the conference.
PAC-10 ON THE RISE – FIVE TEAMS IN THE TOP 25
Many college football fans are going to continue to be ignorant and disregard the Pac-10.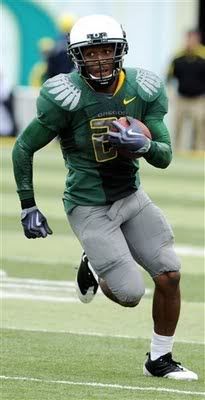 They will continue to laugh off the conference for no reason at all, and ignore evidence of its strength. They will continue to hold the ridiculous double standard that when SEC teams beat each other up (which has been non-existent this year), it is an indication of how strong the conference is, but when the Pac-10 beats itself up, it is an indication of how weak the conference is. How does this even begin to make sense?
Of course, if you are one of these people, you are scoffing and preparing your "LOL PAC-10 TEH SUX" comment. Good for you.
But for the more reasonable, it is hard to ignore that the Pac-10 is on the rise.
Perhaps the strongest evidence of the Pac-10's strength is the amount of BCS ranked teams it has. Heading into this weekend, the Pac-10 currently has 20% of the teams in the BCS top 25 with five; #11 Oregon, #17 Stanford, #18 USC, #19 Oregon State, and #25 California. The ACC and Big 10 each have four, the SEC, Big East, and Mountain West have three, the Big 12 has two, and the WAC has one.
What makes this even more impressive is the fact that the Pac-10 is the only conference that schedules only three out of conference games. They actually have to play a true round robin, and don't have the opportunity to dodge big conference opponents or schedule an extra softy like other teams do.
TEAM-BY-TEAM, EVERYONE IS GETTING BETTER
What impresses me most about the Pac-10 this season is that as great and deep as the conference has proven to be this season, from the looks of it, it is only going to get better.
1-6:

Oregon – Still in control of their own destiny atop the Pac-10, Oregon has steam-rolled through most of their opponents, including USC and Cal. Their two losses have come against very good ranked opponents; and they'd love to have the Boise State game back as that continues to look more and more like an anomaly. The Mike Belotti to Chip Kelly transition was seamless, and with a fantastic and innovative system in place on both sides of the ball, Oregon will be a power for years to come. They have both Jeremiah Masoli and LaMichael James returning next year, and this was the year for the offensive and defensive lines to rebuild; both should be even stronger in 2010.



Stanford – Their late surge has given them back-to-back wins over conference powerhouses in Oregon and USC as well as a chance of a trip to the Rose Bowl if the cards fall right. Jim Harbaugh has turned this team around in a hurry, and they have taken on his personality as a hard-nosed physical team that never stops working. This was supposed to be the year to break in Andrew Luck, but he has already emerged as a star at the quarterback position. He will likely be even better next season, and Harbaugh's excellent ability to recruit will be even easier after the display the Cardinal have put on over the last few weeks.



Oregon State – Year in and year out, Mike Riley churns out one of the most consistently strong teams in the Pac-10. The Beavers have finished in the Top 25 for three straight years, and from the looks of it will keep that streak alive here in 2009. Their excellent post-September play (as always) has put them in a position to take at least a share of the Pac-10 title with a win over their rival Ducks. Mike Riley is one of the best in the country at recruiting and developing players into his system, and there is no reason to believe the Beavers won't continue to be a threat to make noise in the conference for as long as he's at the helm.



Arizona – Hard to believe Mike Stoops was on the hot seat not too long ago. With the help of Sonny Dykes and the emergence of Nick Foles at QB, the Wildcats have an electrifying offense. They also have an extremely fast and talented defensive unit. With Oregon and USC still ahead, the path to the Rose Bowl is a difficult one, but it isn't out of the question. And even if the 'Cats do fall short this season, the valuable experience that they are gaining from playing meaningful conference games in November will pay huge dividends in creating a championship atmosphere next year and beyond.



USC – Remarkably, the once invincible Trojans find themselves staring at a potential Poinsettia or Emerald Bowl berth. This was supposed to be a rebuilding year for the Trojans with an inexperienced quarterback and a defense that was almost entirely turned over from last season, but we refused to believe that it would be. Tons of injuries on offense didn't help, either. But while the Trojans may be down and out this year, they will be right back in the thick of things next year. And for the first time in seven years, they won't have the target on their back. It should be a lot of fun to see how Pete Carroll rallies the troops next season and beyond now that USC's aura of invincibility is gone.



Cal – Hard to consider this year anything but a disappointment considering the high hopes coming in. On paper, Cal was right up there with USC among the most talented teams in the country. Jeff Tedford has done an outstanding job recruiting, and while the Bears haven't been able to get over the hump yet, they seem to be an annual threat to do so. Every year we hype Cal up as one of the conference's top teams and they end up falling short; they strike me as one of those teams that as soon as we all decide to finally count them out, that will be when it all comes together and they catch everyone off guard.
7-9:

UCLA – The fact that UCLA is the 7th or 8th best team in this conference is about as good of an indicator of the Pac-10's strength as anything else. Yes, they have five losses; but all to the teams listed above, proving only that they aren't quite in that tier yet. The Bruins did go into Tennessee with a redshirt freshman quarterback and take that game, and they also dominated what has turned out to be a pretty decent Kansas State team that beat Kansas a few weeks ago. Rick Neuheisel has been stockpiling great young talent, and this team is clearly going in the right direction; they just need to put it all together. A win over Arizona State or USC would make them bowl eligible, too.



Arizona State – Possessing arguably the best defense in the Pac-10, ASU has had a frustrating year due in large part to their inability to get anything going on offense. It is pretty clear that they are only a playmaker or two on offense away from making the jump into the category above. Even without one, Georgia, Cal, and USC were all near-misses that could have easily gone the Sun Devils' way. If this team can get better play from the offensive line and quarterback next year, both very realistic possibilities, near misses will start turning into wins.



Washington – Rome wasn't built in a day, and the Huskies have a long way to go to get back to respectability. That said, they have the right man to get them there in Steve Sarkisian. This has been made evident by their hard work and no-quit attitude, which helped them play a respectable game against LSU and pull off huge upsets over USC and Arizona. As Coach Sark brings in more talent, the Huskies should continue to rise, and until then they will likely continue to be a thorn in the side of the conferences top dogs.
10:

Washington State – And than there's the Cougars. While WSU has made a few strides, they are hard to notice or get excited about with how rapidly the rest of the conference is rising. The situation looks pretty dire in Pullman, but on the bright side, there really isn't anywhere to go but up from here.



THE WRAP UP
Looking at this conference from top to bottom, how can you deny its strength? Every single team (with perhaps the exception of WSU) appears to be either getting better or at the very least maintaining their competitive spot. From the looks of things, the Pac-10 is going to be a flat-out dogfight of excellent teams with top-flight talent for years to come.
Isn't that what earned the SEC the reputation of being the nation's best conference?
It's about time to drop the bias.
5,288 Responses to "The Stanford Cardinal end the USC Trojans reign; and why the Pac-10 is the best conference in college football"