Pac-10 Basketball Preview – USC Trojans
State of the Program

On March 22nd 2009, Michigan State narrowly edged USC in the second round of the NCAA Tournament. The Spartans would go on to play for a National Championship, while the Trojans remarkable March run came to an end. Then things got bad…
First, at the Trojans season ending banquet (March 31st) head coach Tim Floyd implored the superstar trio of DeMar DeRozan, Daniel Hackett, and Taj Gibson to stay at 'SC for a potential Final Four run the following season. Less than a day later, Floyd was in Tucson, Arizona rubbing elbows with 'Cats AD Jim Livengood. Needless to say, after that debacle the three 'SC superstars swiftly decided to turn pro.
But the worst was still to come. I won't go through the painful summary, but here is a quick chronological recap using key terms: Louis Johnson, Rodney Guillory, alleged $1,000 envelope, NCAA investigation, "lack of institutional control", 'Zona raid of 'SC recruits.
Pretty tumultuous off-season to say the least, but the show must go on and it will now be directed by journeyman Kevin O'Neill. O'Neill knows a thing or two about coaching a program through chaotic times (2007-08 UA), and now the seasoned 52-year old will try to do it again. As mentioned earlier, the Trojans were decimated by de-commits during the last recruiting cycle, but there is still enough talent left on the roster for O'Neill to keep this team competitive in 2009-10.
Impact Superstar: G Dwight Lewis

Lewis led the Trojans in scoring last season with 14.4 PPG, which is especially impressive considering the talent that was on that roster. This season, the senior from Metairie (LA) will not only have to carry much of the scoring load again, but also provide valuable leadership for a team that must find its identity.
At 6-5 215 pounds, Lewis is a slashing guard with excellent shooting range. Last season, he connected on 37% of his 3-point attempts, and he enters the season ranked 15th on 'SC's all-time three-point baskets made list. He has steadily improved over the last three years, especially on the defensive end.
I fully expect Lewis to have a big year scoring, and O'Neill's pro-style offensive system should fit his game nicely.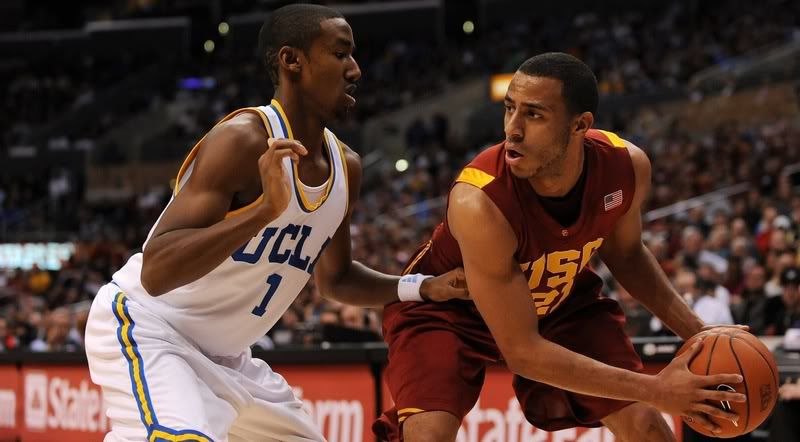 Needs To Have A Big Year: G Marcus Simmons

An ankle injury kept Simmons out for most of last season, but when he did get on the court (during the Trojans March run) he was the Trojans best defender (just ask UCLA's Darren Collison and Cal's Jerome Randle). Simmons finished the season with 1.9 PPG, 1.2 RPG in 11.2 minutes per game, but those numbers should skyrocket this season.
The 6-6 guard from Alexandria (LA) is a prototypical wing player, possessing excellent length and athleticism that he uses to his advantage on both sides of the floor. Now the only question is, can he develop consistency with his jump shot and perimeter game? If O'Neill can mold Simmons into a more dynamic offensive threat, the Trojans could surprise in the Pac-10 this season.
I believe Simmons is one of the most talented defensive players in the Pac-10, and it would not surprise me to see him on an all-conference team for that reason. Hopefully, the junior can stay healthy this year because I really think he is due for a breakout season.
Potential Impact Newcomer: F Alex Stephenson

Anytime a player transfers from North Carolina there is reason to get excited, and Stephenson should have a huge impact in his debut season with 'SC. The 6-9 forward from Los Angeles (CA) left UNC in 2008 to be closer to his family. At one point, it looked like he would suit up for the Trojans last season, but the NCAA denied his transfer waiver and he instead redshirted.
Stephenson is a very gifted post player, possessing excellent rebounding and shot blocking skills. During his last season in Chapel Hill (2007-08), he averaged 4.3 PPG, 4.5 RPG and shot 53.9 percent from the field (played 14.5 minutes per game).
In my opinion, Stephenson will be the x-factor for 'SC this season. If he is as good as advertised, the Trojans will have a dominant frontcourt player that few Pac-10 big men will be able to handle.
My Take
Despite all the problems, Kevin O'Neill has done a fantastic job stabilizing the program so far. Recently, O'Neill put the finishing touches on a 2010 recruiting class that is currently ranked in the top 15 nationally by most recruiting services. Not bad for a program that is in the midst of an NCAA investigation.
I also like the talent on this year's squad, as players like Simmons and Stephenson should take a lot of pressure off of Dwight Lewis. But there is one position on this Trojans squad where I am very skeptical: point guard. O'Neill has mentioned how critical it will be for 'SC to establish a reliable presence at the point, and I'm not sure where that player will come from. Junior Donte Smith will likely be the starting PG, but his relative inexperience (three career starts) is cause for concern.
USC has the talent to compete in a rebuilding Pac-10 conference, but lack of overall depth and limitations at point guard will probably hold the team back.
Projected Pac-10 Finish: 9th Place
1,219 Responses to "Pac-10 Basketball Preview – USC Trojans"