Jake Locker leads Washington Huskies to stunning upset over USC Trojans
"We've got a tremendous football team. We've got kids that are talented, kids that want to work hard; we've just got to change their mindset. It's going to take a little time, but that doesn't mean it can't happen fast"
– Steve Sarkisian at introductory press conference as new UW head coach on Dec. 8 2008.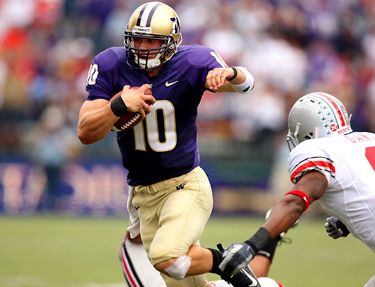 Did you really mean this fast Sark? I mean let's put things in perspective. Last week, Washington ended the nation's longest losing streak against Idaho. It was a blowout win for a program that desperately needed the taste of victory again. Now all of a sudden, that 0-12 season seems like a distant memory.
The scene at Husky Stadium in the aftermath of the 16-13 win over #3 USC harkens back to the early '90's when this U-Dub program was one of the elite programs in America. While the 2009 Huskies are not to be confused with any of Don James' legendary teams, the Sarkisian era is off to a magnificent start.

So how did Washington pull this stunner off? Certainly the new coaching staff was a big part of it. You have to give a ton of credit to Nick Holt in particular. Remember, Holt took over a defense that ranked 110th nationally in total defense, 115th in pass efficiency defense, 116th in scoring defense, and 119th in turnovers gained.
Yet yesterday, he had his Huskies swarming to the football like the Trojans do, and it paid off on numerous occasions. Washington forced three turnovers inside its own 35 yard line, held 'SC to a remarkable 0-for-10 on third down, and allowed only 110 passing yards ('SC's lowest passing total in the Carroll era).
After giving up ten early points, UW limited USC to only a field goal for the final 49 minutes of the game. Throughout the afternoon, Holt's personality manifested itself within the D, as the unit played with incredible passion and intensity. Make no mistake about it; Nick Holt is as responsible as anyone for the outcome of the game.
But to beat a team like 'SC you need more than good defense. You need a difference maker, and the Huskies have one. In fact, in my opinion, they have the best quarterback in the Pac-10 right now (with all due respect Kevin Riley).
Jake Locker's day may look pedestrian in the box score (21/35, 237 yards, 0 TDs, 0 INTs), but with the game on the line he did what few could against USC. Locker marched the Huskies down the field on a well-crafted 10 play 63-yard scoring drive, capped off by the game winning field goal by Erik Folk. On that drive, Locker demonstrated the poise, leadership and skill that have endeared him to so many UW fans since his days at Ferndale High School (WA). He will be praised for his clutch heroics just as Matt Barkley was last week against Ohio State, and rightfully so. Pete Carroll summed it up best: "I think the difference in the game was Jake".
Now, Locker and his Huskies will have to prove that they are not satisfied with an upset win. Can they keep this up? Are they really conference title contenders? We may know sooner rather than later, as the Huskies are on the road against Stanford this week in what could be a textbook letdown game.
As for USC, it's gut check time. No one, including myself, would be surprised if 'SC runs the table from here. Truthfully, I expect to see it happen. But one year after losing to Oregon State in their 2008 Pac-10 opener, the Trojans are once again faced with a ton of questions.
Maybe now we can see why Pete Carroll was so upset with Mark Sanchez's decision to go pro. Maybe now we can see why Matt Barkley was named the starter over Aaron Corp prior to the start of the season. The passing game was utterly anemic, and it makes you wonder how far Mitch Mustain must have fallen on that depth chart (and in the minds of the coaches) to not even get a look.
A strong argument could be made that USC was more responsible for Saturday's result than UW. Between the play of Corp, the penalties, and the inexplicable turnovers from Joe McKnight, USC was asking to lose. It is becoming very clear that without the field-stretching Ronald Johnson on offense, and the game-changing Taylor Mays on defense, this Trojan team just isn't even close to the same.
One thing is for sure; the Men of Troy better get things fixed soon. After returning home for one game (WSU), 'SC will make the trip to Berkeley for a showdown with the Cal Bears, and then it's on to South Bend to play the Fighting Irish.
If any team can respond it's the Pete Carroll-led Trojans, but their backs are firmly against the wall right now.
In the end, the more we learn the less we know. Both USC and UW still have a lot to prove, and there is plenty of football still to come. But the Pac-10 needs these kinds of games, and we can only hope that the rest of the conference season presents us with last-minute thrilling finishes like this one.
For now, I salute the Dawgs on a tremendous effort. It's great to see a tradition-rich program starting to re-emerge.